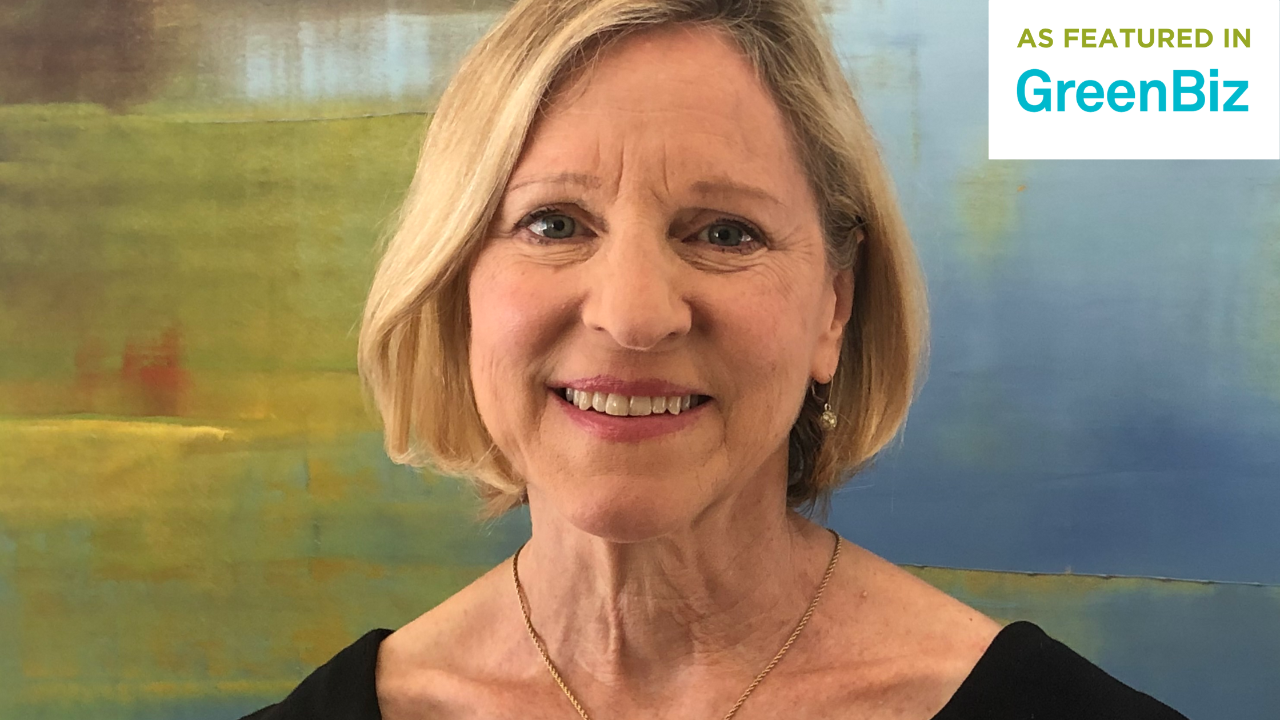 Peggy Brannigan discusses her plans to leverage the LinkedIn platform's "superpowers" to help protect the planet and support green economic growth.
As director of global environmental sustainability at LinkedIn, Peggy Brannigan has an ambitious remit: to help protect the planet and support green economic growth. Having previously worked with the likes of Google, Apple and even the U.S. Department of State on their sustainability strategies, Brannigan knows more than most about how to put an ambition like that into action.
I recently spoke with Brannigan to learn more about the three pillars of her role at LinkedIn, the critical role of soft skills and the exciting growth she's seeing in green jobs. This interview has been edited for style and length.
Shannon Houde: What does a global head of environmental sustainability do every day in a tech company?
Peggy Brannigan: In the simplest terms, I work toward three high-level responsibilities. The first is to make sure LinkedIn is operating with environmental excellence. We were acquired by Microsoft a few years ago, and in 2020, LinkedIn joined Microsoft to make three big climate commitments. We will achieve carbon negative, water positive and zero waste operations by 2030. And even sooner, by 2025, we've pledged to use 100 percent clean energy all the time. It really is overwhelmingly ambitious. But because we know that we have resources that some other companies don't. So, we felt we needed to go beyond "neutrality" to carbon negative and water positive. On my team there are a few amazing people who are tracking our impacts, and reporting them and collaborating internally to drive efficiencies in our workplaces and in our data centers. We are also working with our sourcing team to tackle the Scope 3 carbon footprint from our supplier relationships.
The second responsibility has to do with delivering sustainability solutions on our platform. This is very different but equally important, and where I'm spending more time now. My team is exploring "What are LinkedIn's particular unique assets that we can use to accelerate climate action?" It's a question that every company should ask, and the answer is going to be different for each company depending on their business model.
"Of the fastest growing skills, half are technical skills. But the other half — and the further up in an organization you move, the more important they become — are what I would call soft skills."
At LinkedIn, our "superpowers" include our very large dataset about the global economy and our online platform and community. With LinkedIn's anonymized data reflecting our 900 million members and millions of companies and job postings, our economist can see "where are the green job opportunities that are arising? What types of green skills are in demand? And where are the green skills gaps that need to be addressed geographically?" For example, last year, what do you think was the fastest growing green skill? It was sustainable fashion. We publish these data insights and share them with policymakers and business leaders and job seekers.
We can leverage our online platform to help other organizations and professionals "go green." Our engineering team has created a Green Jobs Collection that we launched during Earth Month 2022. Everyone can tap into this collection as one way to find green work, which is not just sustainability job titles like mine; the collection includes ordinary jobs where the employer is looking for someone with green skills, to do that job in a green way. We're also building a catalog of LinkedIn Learning courses for building green skills, with topics ranging from sustainable product design and supply chain management to ESG and green building.
A third part of my role is building external partnerships with nonprofits and governments. We want to elevate the visibility and reach of important partners and environmental thought leaders, especially those who are working to advance progress on environmental justice and equity issues. So earlier this year, we launched Top Green Voices from many countries. And that's another resource that anyone can find and subscribe to on our platform.
Houde: One of the trends I'm seeing is less focus on "green jobs" and more integration of "green functions" into many job titles. Does that echo what you're seeing?
Brannigan: Yes, in an ideal world, there won't need to be a central sustainability team, because across every function it will be part of the core principles of how they operate. But we're not there yet. When I took the role at LinkedIn, I had the incredible opportunity to grow LinkedIn's sustainability program from the ground up. We have a small central team driving strategy and are embedding sustainability responsibility across other functions.
I think what's typical is that you start with a focus on your own operations. You set science-based targets focused on what is most material for your company. If you're in manufacturing, it's different than if you're in tech. Then the next best practice is to include your supply chain. And that's because across the board for almost every company, the vast majority of the carbon footprint comes from Scope 3 emissions, and specifically the embodied carbon from the goods and services that we all procure.
As a customer, LinkedIn can nudge and incentivize the large suppliers that we buy from, and that's a win-win. Then you engage with your customers around sustainability. At LinkedIn we've been investing in our own products and services to tweak them to provide sustainability solutions for our customers. From there, the circles of influence and opportunity just keep expanding.
Houde: With all the insight LinkedIn has, how do you see the sustainability jobs sector evolving?
Brannigan: Well, green jobs have been more resilient than jobs on average on the site. Green entrepreneurship also has grown faster than entrepreneurship generally on our site. You can find exceptions in different industries, but there's a lot of opportunity for growth. There are regulators around the world requiring companies to report more and to take more action and show progress. Plus, there are rising demands from customers and activist investors. So, there are a lot of external forces that are creating incentives for companies to hold onto their sustainability function and grow it.
Anecdotally, from what we're seeing at LinkedIn and Microsoft, the biggest immediate needs are for people who understand data collection, analytics, greenhouse gas accounting, water management, zero waste management and ESG reporting — all of those things that are linked to being able to measure, monitor, manage and report on environmental impact. Those technical skills are super marketable.
The other area we see staffing up is in sustainable supply chain management, and I think that will continue. Green building, too, has pretty strong momentum and of course, clean energy. Skills that involve driving efficiencies and implementing healthy and sustainable operations, those are marketable skills.
Houde: Is it fair to say that subject matter expertise isn't the only skill that counts then?
Brannigan: Yes. There's so much opportunity across a vast spectrum in terms of green work. You don't have to come in as a scientist knowing greenhouse gas accounting. Of the fastest growing skills, half are technical skills. But the other half — and the further up in an organization you move, the more important they become — are what I would call soft skills.
Communication is critical. Being able to articulate verbally and in writing what is the business case of why we need to take action, and then being able to draw in an audience. Then there's relationship building. By definition, these jobs are changemaker jobs. You're asking people to do things differently than they used to and that's uncomfortable, it creates friction and extra work, mentally and physically. And so those people who are the most effective sustainability leaders know how to enter into a new relationship by asking first, what is your priority? Authentically connecting with stakeholders, understanding their view and what their priorities are, that's a critical skill.
Houde: And in terms of acquiring these skills, are there any platforms you'd recommend?
Brannigan: LinkedIn Learning's sustainability courses is one place to start. The catalog has around 40 courses now but is growing. As for other sources, I can tell you what I did. When I was living in Europe 10 years ago, I took courses in person in England and online. Coursera has some really solid courses. The University of Chicago had a really nice set of courses around energy and circularity. The University of Lund in Sweden as well. Now I know there are lots of online offerings from universities in addition to courses available in your local city. I will add a teaser here: In April, we launched a Sustainability Resources Hub, which is a collection of resources to help professionals lead initiatives for their organizations.
Shannon Houde is an ICF certified career and leadership coach who founded Walk of Life Coaching in 2009. Her life's purpose is to enable change leaders to turn their passion into action and to live into their potential — creating scalable social and environmental impact globally. To follow more stories like these, join Shannon for Coffee & Connect where she interviews sustainability practitioners every month to learn more about what their "day in the life" involves.
This article originally appeared on the Greenbiz Purpose & People column and can be viewed here.
Want to do work you love every day?
Discover how you can create professional and personal impact in a career that makes a real difference with our signature coaching program for ESG and sustainability job seekers and movers.
JOIN US
Want to be a CSO?
Set your sights on a CSO role? With the right plan in place, there's no reason it should be out of your grasp.
DOWNLOAD NOW!
Book a trial coaching session
Apply for a 30-minute trial coaching session with Shannon Houdde to share your challenges, get hot tips and gain a sense of our coaching style.
APPLY NOW
Join The Impact Leaders Lab
A private space for senior sustainability & ESG professionals to accelerate your professional development and solve pressing challenges with peers
JOIN US NOW - FREE!
25 Top Sustainability Courses to Fuel Your Green Career
Discover the 25 essential sustainability courses and certificates that will accelerate your career in the green sector. Elevate your credentials and take the first step toward a more sustainable future.
DOWNLOAD NOW